How to browse and buy on our website?
We have created two video tutorials to show you how to browse and shop on our website. Look below:
In the video below you can see how search products on our website based on filters (colors, manufacturer, price, etc.):
How to reset password?
For to reset your password please watch this video:
Do you sell to private customers?
Anyone can buy on this website, including and above all private customers.
We only sell our yarns online. We do not have a physical store to the public, we have a goods warehouse from which we ship orders placed on this website. You will receive the purchased goods directly to your home or to any address you provide us.
We sell only online. We have not a physical store open to the public. If you want to come and visit us in the warehouse, write us on whatsapp or via email at least one day before for an appointment.
If you have a shop or a knitwear factory or you are a VAT-registered knitter, read here: https://florencecashmereyarn.com/en/do-you-have-a-vat-number/
Can i pay by credit card?
I state that you can pay with all cards of the Visa and Mastercard circuits. There are two ways to pay by credit card: 1 – choose the "Credit Card" payment option, you will be redirected to the Payplug (secure system for online payments) website and you will have to follow all the steps by entering your data and the data of your Visa or MasterCard credit card. You must have the security code of the card (OTP or 3D secure), even the temporary one that arrives via SMS is fine, or app of your bank for authorize payments on internet. The one of the Visa card is called "Verify by Visa" that of MasterCard is more simply called "MasterCard security code", which you will have to enter when requested on the bank's website, at the last step of the payment. See this video for to see how to pay by credit card step by step:
2 – You can pay through Paypal with your credit card even without having a Paypal account or being registered with Paypal. And you don't need OTP or 3D secure. See below
how to do it: When you arrive on the Paypal page, instead of entering the access data, click directly on "Pay as an unregistered user":
Also in this video you can see how to pay by Credit Card without have Paypal account:
How to register and how to recover your account password?
In this video you can see how to register and how to recover your account password:
Can I have free shipping costs?
Shipping is free only in EU Countries on orders over 299.00 euro.
Shipping is free only for private customers.
How to calculate the shipping costs?
You have to place the products in the cart and then, when you are on the cart page, the website will show you the various shipping costs available, select the one you need and complete the order. If in your cart you have products worth more than 299.00 euros, SELECT free shipping.
PD: Shipping costs are free over 299.00 euro only for private customers, they are not free for company.
Watch the video below:
Informations by shipping costs:
Unfortunately There are some changes on shipping costs but it does not depend on us. Shipping costs with GLS carrier have increased significantly. We kept the old prices as long as we could, putting the difference out of our own pocket, but now unfortunately we can no longer do it because this difference affects the cost of the yarns too much. However, free shipping remains on purchases over 300 euros for all countries of the European community.
Our yarns are in stock and we sell at prices far below normal market prices. Our prices are also much lower than the direct prices of the producers themselves. And they have remained the same for years now, when instead everything else has increased throughout Europe, and not only in Italy, even by 30% more, even foodstuffs.
I am very sorry that the shipping costs have had this increase, but unfortunately, I repeat, it is not up to us.
Below you can see the rates that the GLS courier applies to us. In addition to these rates you must apply 6% for the cost of fuel and 0.20 euros for the Covid emergency that all couriers charge us.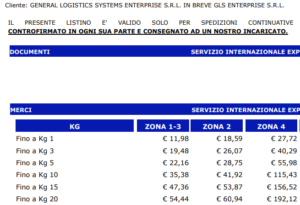 Can i have tracking code?
The tracking code is sent by email on the day of shipment, for all types of shipments that you can check directly on the courier's website. If your package was sent by GLS courier,
click here
and enter the shipment code in the "Search with customer package ID" field If your package was sent by DHL courier,
click here
and enter the shipment code in the central field. Watch the video below to see how to track the package:
Order deliveries by couriers
All carriers send you an email to notify you of the delivery. From the email, if you want, you can change the delivery date, the delivery address or you can request delivery to a collection point (Parcel Service) near you, which can be a tobacconist, a shop or a petrol station.
When you have to place an order on our website, first of all make sure that the address and telephone number are complete and correct, make sure that the surname you use in the delivery address is also written on the doorbell, make sure you have entered the house number and better if you use a mobile number, so our courier will send you a text message to notify you of the day of delivery.
Use an address where there is always someone who can collect the package. If you know you are not at home use your work address, if you cannot receive the package at work ask someone to be able to send it to their address, for example to a family member who lives nearby, or to a friend or neightbor . Of course, if there is a concierge, the problem is solved, just let him know that you need to receive a package, but still specify the concierge's hours when you place the order.
Always keep in mind that:
Courier drivers do not call to warn you that they are on their way, unless they know you well (at the driver's discretion), or if there is a very, very helpful driver in your area. They always have a lot of deliveries and collections to do and they are always in a hurry, they don't have time to call all the people they have to deliver to. Sometimes they even have more than 100 deliveries to do in one day.
Delivery times vary. In the sms or email message you receive from the courier before delivery there is an indicative time written (for example: from hours … to hours …), the delivery time varies according to how many deliveries they have to make, if they have few they will come soon, if they have many they will come late.
Don't ask us when the courier will come, because we don't know, we can't know, we can't know the timetables of couriers all over Italy.
The normal practice of couriers for deliveries is as follows:
you will receive an SMS on your mobile phone (if you have provided it at the time of the order) and / or an email on the day of delivery that will notify you of same-day or next-day delivery.
the courier will come to deliver and if he does not find anyone he will bring the package back to his office leaving a notice in your mailbox or on your doorbell.
if at the first attempt it has not found anyone to collect the package, it will retry delivery the next day, and if it still does not find anyone, it will leave a notice and return the package to its headquarters which will be placed in storage.
at that point it will be your concern to contact the courier at his office to fix a new delivery or collect the package personally. If you do not contact the courier within a few days, the package will be returned to the sender.
If you have problems with schedules, choose an alternative shipping method, I know it has a cost and we all want to save, but in this way you will be sure of the delivery and you will not get angry with the courier or with us or with yourself, because if the courier does not come at the time you thought it was coming, it is not our fault, nor is it the driver's fault.
On our website you can also choose the:
Delivery by 12 noon – if you are at home only in the morning, the driver will surely come to deliver by 12 noon on the set day.
We generally ship with GLS or DHL couriers in CEE countries and DHL in non-EU countries.
We try to help you in the best possible way, but we also have limits, those imposed by couriers, and couriers also have limits, and you cannot expect the driver to be there to deliver at the time you want, unless you pay for this service. I do it when I have the need. I also buy a lot online, sometimes I also shop online, and if I have difficulty with delivery I ask for delivery by appointment and pay the resulting cost, but at least I'm calm.
I also make other recommendations: Check that you have entered your telephone number and e-mail address correctly: if there are problems with order fulfillment or delivery, it is important that we can trace you in order to agree on any changes. In the days following the order, check your e-mail: we may have sent you some communication concerning the order fulfillment. You will receive an email with the order tracking (and a text message from the courier who will notify you of the delivery), but you can also find the tracking number of your order by connecting to the Hircus Filati website and accessing the reserved area. We guarantee maximum protection of confidential information and sensitive data (see our "Privacy").
In case of non-delivery due to errors in filling in the address by the customer or for entering an address where there is no one to collect the package, the same will be returned to the sender, and additional shipping costs will be charged to the customer for the reshipment of the package.
If you do not insure the shipment, we are not responsible for the courier's actions if the package is lost or damaged. In this case we are not obligated to return the goods to you or refund you. I advise you to insure the shipment, especially if the order amount is important, or choose the DHL courier.
If the package is damaged you must still accept the shipment "with reserve" and make sure that the courier notes the reservation and you must take one or more photos of the package and send it to us by email to info@hircusfilati.com describing what happened.
Can I request delivery at predefined times?
You can choose one of the available shipping methods, if you need delivery before 12:00 (this service is subject to a fee) you must select DHL Express 12:00 if available.
We ship by GLS and DHL in the EU Countries and with DHL in the NON-EU Countries.
GLS have Flex Delivery Service, you receive an email with a link with various option. You can change day of delivery or you can select delivery to Access Point near your home, it can be a shop or gas station, and you can go to take package when you can.
Can I change my email address?
You can change any data entered except the email address. To change your email address you need to register a new account and delete (or ask us to delete) the old account.
Do you have a discount code?
If you have a discount code you must enter it in the space provided on the cart page, and click on "Apply Discount", you will find it applied on the checkout page (order confirmation page).
Return Policy
Watch this video about our return policy:
All yarns are to be treated / washed before and / or after processing. Read here before buying.
All the yarns you find on this website are in stock and are to be treated / washed before and / or after processing, they come from end of series of knitting factories, auctions and sometimes bankruptcies.
For this reason we can sell the yarns at much lower prices than the normal prices you find in the store.
The yarns available are in small quantities. Always check that you have enough quantity, as you probably won't find the same yarn or color.
Before starting the work you need to make a sample of 10×10 or 15×15 cm. and wash it. You need to measure it before and after washing.
This will help you understand many things, the most important, consumption and returns.
Find our tips for processing and washing our yarns by clicking here.
You need to know the consumption because if you wait too long and then you realize that the yarn is not enough for you to finish the job, most likely you will not find it on our website and you will have to undo the work you have done.
And you need to know the returns to calculate the measurements and consumption because if you make the shirt precise and when you wash it it returns you will not be able to use it and it will all be wasted work.
If you want some tips to calculate consumption, read these 4 articles on our BLOG written by our Alicja Kwartnik: https://www.handknittingcashmereyarn.com/?s=how+to+calculate
N.B .: All our yarns must be treated after processing.
Do i need to make a sample before knitting the yarn?
Yes, it is essential to make a sample before working the yarn, whether you have washed it before or decide to wash it after working. Each yarn is different from the other, sometimes even different colors of the same yarn have small differences (for example light colors make it different from dark colors). Especially since they are delicate and precious fibers such as Cashmere.
Making the sample is used to see the hand, see the yield, develop the size, so you can calculate if the quantity you have purchased is sufficient for the work you have to do.
We do not accept complaints about processed yarns, especially if a test sample with relative washing has not been carried out beforehand.
ATTENTION: Always make the sample and wash it before making the final work. If the sample has any defects attributable to the yarn we will exchange or refund the yarn itself after checking the defect.
We will NOT be responsible for work carried out without first having made the sample.
In case of a defective yarn, you will need to return the yarn and the sample made so that we can verify the defect.
If you use an external knitter, always ask to make the sample before making the final garment. If you use an external knitter, always ask to make the sample before making the final garment.
Each yarn is different from the other, each color is different from the other and makes it different from the other, each spinning mill produces the yarn differently.
N.B .: The number of needles indicated in the description of each product is indicative, it then depends on the hand, the type of stitch and the type of garment to be made.
If you want more information about the processing and washing of yarns in cones, look in the links at the bottom of the page or go to our blog.
What does 3x2 / 15 or 4x2 / 28 ... etc mean?
The thickness of the yarns (in jargon called "Titolo") is calculated by measuring the meters contained in 1 kg of yarn. Unfortunately yarn cannot be measured with a gauge, and the best way to measure it is in meters. In the description of all the yarns on our website you will find a number preceded by "Nm.", That number is used to determine the thickness of the yarn based on the length. For example, if you find Nm. 3200 it means that 1 kg of that yarn will contain 3200 meters, if you find for example 2/28 it means that that yarn has a thickness of: 28000/2 = 14000 meters in 1 kg of yarn. For more information download the basic course on yarns for FREE by
clicking here
.
Are the yarns to be treated / washed?
Yes, our yarns come from stock from knitwear factories and rods and are all to be washed / treated before or after processing, however you need a simple wash that you can do yourself by hand or better in the washing machine.
You can find our best advice on processing and washing by clicking on the links at the bottom of the page.
If I buy two cones of the same color, are they from the same batch?
To buy two cones of the same color and the same lot you must enter 2 in the quantity to add to the cart, if the quantity is not available, look for a product where two cones are available. If you buy the same color but from two different items, you will receive two cones of different lots and sometimes also of different spinning.
How much yarn I need to make my knitting?
Our Alicja Kwartnik has created a small course in four lessons giving us many indications and helping us to calculate as best as possible the quantity needed to make our knitting, which you can find on our blog by
clicking here
.
Why the labels in the cones are not original sometimes?
The yarns come out of spinning normally in 1 kg packages. when they are used, packages of less than one kg can remain. but also packages of 1 kg.
Our customers can buy 500 gr cones on our website, we offer this possibility to our customers because for many people buying 1 kg of yarn all of the same type and color is too much, especially if they are hobbyists who make only one garment by type and color. In this way our customers can buy a sufficient quantity for a sweater in various types of yarn and colors, and if they need more quantity it is sufficient to buy more 500 gr cones of the same type and color of yarn.
For this reason, i.e. by dividing the 1 kg cones into 500 gr cones, the label of the original cone will remain on one of the two cones, in the other 500 gr cone we affix our label by copying title, composition, code or name, color and lot. or bathroom with the original label. This does not mean that the yarn is no longer original, quite the contrary.
Sometimes, on the other hand, we have to pass the yarn back to the winder because some bobbins are "suspicious". In fact, it often happens that in a large batch of stock yarns we buy there are some defective packages.
We pass the suspicious packages back to the winder and we eliminate those with defects, while those that do not have structural defects we affix our label indicating the name of the article, the title, the color and the batch number.
These are the main reasons why you may sometimes receive some packages with our adhesive instead of with the original adhesive from the spinning mill.
Is it possible to have smaller cones?
We can divide each cone into two, three or four (maximum) smaller cones. Just write it in the "Notes and Comments" form on the checkout page. We cannot join the yarns to several garments because we do not have the right machine, the yarn would get tangled and damaged.
Are the photos real?
The photographs taken for the products shown on our site were taken with light at 5500 ° k and balanced at 5500k in order to give an optimal photographic start at 100% on the colors of the same. It is advisable to trust the name of the color to avoid misunderstandings of color incompatibility in orders due to the various calibrations of your monitors.
How to clear the browser cache and delete cookies and why !!
Sometimes it may happen that some pages of the website do not open, it is advisable to clear the cache of the internet browser and delete the cookies. In the video below I'll explain why it's important and I'll show you how to do it.
In the video below you can see how to clear the internet browser cache and cookies on your smartphone or tablet (this video is in italian language, sorry, but you can see all steps):
Are you Company?
If you are a company, shop, knitwear factory or a knitter with VAT number (for EU-Country), you can buy on our website at reserved prices without VAT.
You must first register by clicking here, choosing "Company" and entering all the required data, especially the VAT number.
VAT number is needed only if you are in the EU-Country, if you are out of EU-Country you don't need VAT number and you don't pay VAT.
Then you will have to wait for the account activation email that you will receive as soon as possible.
If you are company in the EU-Country but you have not VAT number, please, contact us at info@hircusfilati.com